I have re-opened my Instant Traffic Formula (ITF) traffic course and I am offering a special discount to $77 for "lifetime" membership, instead of the regular $197 — that is 61% off.
I recommend that you take advantage of this discount.
Why?
Because my ITF traffic system really works, as it has for me for YEARS.
I am not practicing what I preach here. I am preaching what I practice!
Here is a real example of traffic, as of TODAY, to a brand new blog post of mine: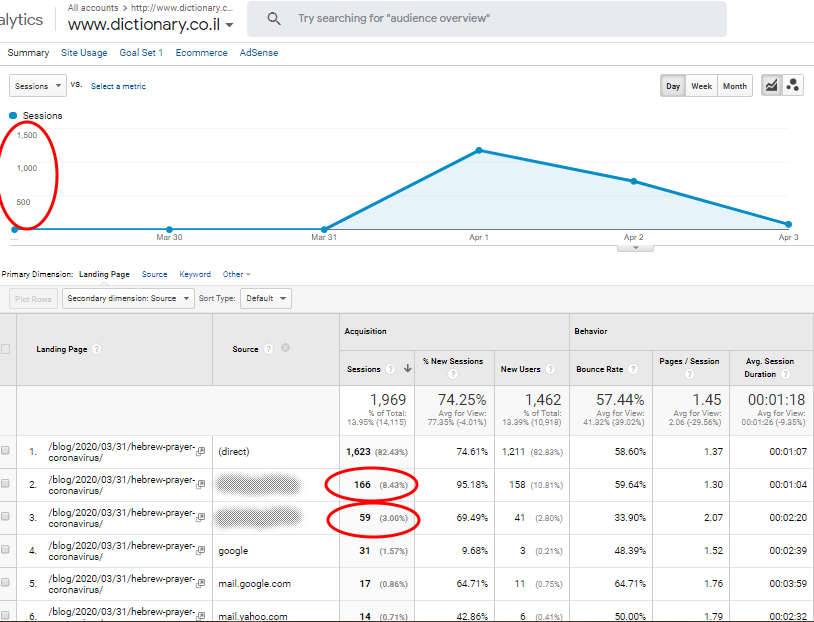 You can see a lot of "direct" traffic there, which is mostly from my email lists. You probably don't have big email lists like I do, but ITF will show you how to build your own.
More importantly, you can see 2 other grayed-out traffic sources. The 166 is from the main traffic source that ITF teaches. The 59 is from a new source which is a similar idea. This latter source is something I use only sporadically but I am planning to use it much more in the future, in conjunction with the ITF system.
I should emphasize that the 166 visitors came in about 14 hours, the traffic is still coming, and I haven't even finished working the system. The 59 should grow as well. Both numbers grew in the time it took to write this post!
And I should emphasize that this was just a post with a Hebrew prayer to say for relief from the COVID-19 coronavirus. (Remember, I teach Hebrew.)
That is timely, but we are not talking about funny-cat-video kind of interesting here.
The kind of awesome content that I show you how to acquire for FREE in ITF would draw TONS more traffic from the same minimal effort.
(If you don't even have a web site yet, don't worry. Watch my webinar recording to see me pick a topic, set up a free site with incredible content AND start to drive traffic to it, in less than 25 minutes. You can then do the same for yourself.)
While the traffic system still definitely works, some of the ITF videos are a bit outdated. That is why I am offering it for just $77 instead of $197, a 61% discount.
Get the big discount while you can:

Instant Traffic Formula: 61%-off Reopening Discount